Is there a more important space? Not to this client; arising each morning, setting the tone for her day and winding down every evening, determining how well she sleeps.
Vertical striations of various color over an ever so subtle, chalky, texture bound top and bottom by gilt millwork that was distressed to imply maturity. Every piece in this room was touched by master painters;  furniture, light fixtures, flooring, fireplace and doors.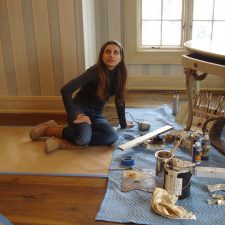 Crafting an elegant, uplifting space was requested of André and it was masterfully achieved by the team.